Biennial New Investigator Clinical Trials Course
2021 TBD
Donald Gordon Centre
Queen's University
Kingston Ontario
The New Investigator Clinical Trials Course (NICTC) is an important component of the Canadian Cancer Trials Group mandate to provide and facilitate investigator education and training. The major goal of this three-day course is to familiarize new investigators from across the country with the essentials of clinical trial conduct in the Canadian research environment.
The 2019 New Investigator Clinical Trials Course (NICTC) marks the seventh biennial year of the Course, which was founded in 2007. The next NICTC is scheduled for August 7 – 9, 2019. The course is held in Kingston, Ontario at the Donald Gordon Centre, which is a Queen's University convention centre.
Course Accreditation:
The 2019 New Investigator Clinical Trials Course will be accredited for Maintenance of Competence (MOCOMP) credits with the Royal College of Physicians and Surgeons of Canada.
Contact:
For further information on the Canadian Cancer Trials Group Investigator Clinical Trials Course please contact:
---
Using lecture and interactive workshop formats, this course will provide an overview of clinical trial design and conduct for investigators in the field of cancer medicine. Topics will include the fundamentals of phase I-III clinical trial design, biostatistics in clinical trials, correlative biology, quality of life and economic evaluation in the research setting. Practical aspects of clinical trial conduct will also be addressed including how to set up a clinical trials unit, understanding and complying with national and international regulatory standards, contract negotiation, and career planning for the clinical trialist.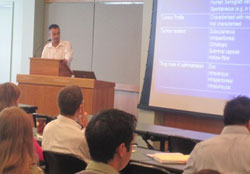 The internationally recognized Course faculty will include senior investigators and managers from Canadian Cancer Trials Group Central Office as well as senior investigators from Canadian Cancer Trials Group Scientific Committees.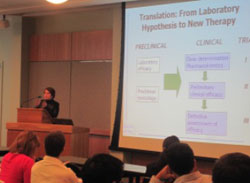 Participants must be trainees/fellows and junior faculty members in their first five years of staff appointment in medical, hematologic, radiation and surgical oncology programs from across Canada.
The Program Announcement is sent to the Canadian Cancer Trials Group Disease Site Committee Chairs / Co-Chairs, Directors of Residency Programs in the oncology disciplines across Canada, as well as the professional associations of each subspecialty (Canadian Association of Medical Oncologists, Canadian Association of Radiation Oncologists, Canadian Oncology Societies).
Applicants are asked to provide a current curriculum vitae and their research interests as they relate to clinical trials, and to provide feedback on the draft agenda and suggestions for additional topics. The selection process will be based on the need for broad representation of the different subspecialties, and geographical distribution from across Canada.
Successful applicants will receive funding support from the Canadian Cancer Trials Group for travel and accommodation. Course material including faculty biographies, presentations, and session bibliographies will be made available to course participants on the Canadian Cancer Trials Group website.
---