A Phase III Study of Regional Radiation Therapy in Early Breast Cancer
Published in the New England Journal of Medicine
Research conducted by Canadian Cancer Trials Group at Queen's University has provided new information regarding the use of radiotherapy in the treatment of breast cancer. The study enrolled women with breast cancer at high risk for disease recurrence who completed breast-conserving surgery and evaluated the impact of radiotherapy delivered to the surrounding lymph nodes in addition to standard radiotherapy to the breast. Regional radiotherapy is considered a standard treatment option for women with high-risk breast cancer after mastectomy, but the benefit in women treated with breast-conserving surgery had not been known prior to this study.
While the research did not demonstrate a benefit in overall survival, it did show that irradiation of the regional lymph nodes decreases the chance of cancer recurrence in the surrounding lymph nodes, as well as distant organs. The study also found that treatment was safe and associated with a one percent risk of inflammation of surrounding lung tissue and a four percent increased risk of swelling in the arm, known as lymphedema. In addition to the radiotherapy, all women received contemporary chemotherapy or endocrine therapy as directed by their physicians. Similar results were shown by another recent study in Europe.
Radiotherapy is available in many countries and these research findings will be included in international treatment guidelines, thus enabling women and their physicians to make informed decisions about the benefits and risks of radiotherapy after breast-conserving surgery for high-risk breast cancer. The study, led by Dr. Tim Whelan, Canadian Cancer Trials Group Breast Site Committee Co-Chair and Professor of Oncology at McMaster University, would not have been possible without the participation of over 1800 women with breast cancer and a team of investigators from Canada, Australia and the United States. This 14-year study was supported in Canada by the Canadian Cancer Society Research Institute.
"Many important advances in cancer care have been made possible by research conducted by Canadian Cancer Trials Group. Randomized clinical trials represent the highest form of research to test a new therapy and require the commitment and dedication of researchers, patients and funders for their success. These study results are an example of what collaborative research can achieve," said Dr. Wendy Parulekar, Senior Investigator at Canadian Cancer Trials Group and Associate Professor in the Department of Oncology at Queen's University.
Please use this link to the New England Journal of Medicine publication:
---
About the Canadian Cancer Trials Group
The Canadian Cancer Trials Group is the only Canadian cooperative cancer trials group conducting the entire range of cancer trials from early phase studies to large international randomized controlled trials across all cancer types. Its primary mission is to assess the effectiveness of interventions to prevent the development of cancer or improve the care of those patients who do develop cancer. Canadian Cancer Trials Group trials have led to improved outcomes for cancer patients. It is a national research program of the Canadian Cancer Society. The Canadian Cancer Trials Group's Central Operations and Statistics Office is located at Queen's University in Kingston, Ontario, Canada.
Conduct of this study was supported by funding provided by the Canadian Cancer Society and the US National Institutes of Health.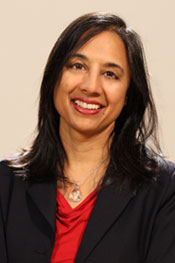 Wendy Parulekar
Senior Investigator - MA20
BIO