Published:
December 15, 2016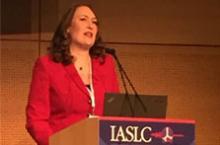 Dr. Rosalyn Juergens, the study chair of IND.226, gave an oral presentation of the experience to date on IND.226
Published:
November 30, 2016
Two Canadian Cancer Trials Group (CCTG) Investigational New Drug (IND) trials – IND.221 and IND.226 – were presented today at the EORTC-NCI-AACR Molecular Targets and Cancer Therapeutics Symposium in Munich, Germany.
Published:
September 28, 2016
A Study Evaluating the Pregnancy Outcomes and Safety of Interrupting Endocrine Therapy for Young Women with Endocrine Responsive Breast Cancer who Desire Pregnancy.
Published:
August 23, 2016
On Saturday, September 17, the CCTG Trialblazers participated in the Canadian Cancer Society's Mudmoiselle Ladies' Mud Run held in Kingston. They raised over $2500 and had a blast doing it!
We would like to thank the Trialblazers team for their team spirit and willingness to get down and dirty in support of cancer research.
Published:
September 20, 2016
The Canadian Cancer Trials Group was referenced in an articles on funds raised for brain cancer research by The Tragically Hip's summer tour.
Published:
July 14, 2016
Dr. Chris O'Callaghan, at the Canadian Cancer Trials Group in Kingston, is a senior investigator in a new trial that produced effective results in improving the longevity and quality of life of patients with glioblastoma, an incurable brain cancer.
Published:
June 08, 2016
Two cancer trials conducted by the Queen's University-based Canadian Cancer Trials Group (CCTG) and lead scientific investigators Chris O'Callaghan and Wendy Parulekar have been recognized as among the highest impact studies in the world.
Published:
June 06, 2016
A unique partnership between the Canadian Cancer Trials Group and the 7 Days in May Foundation has resulted in over $145,000 being raised for the PA.6 pancreatic cancer trial. This is the fourth year the Foundation has organized a seven-day bike ride around Lake Ontario, 7 Days in May, to raise money for pancreatic cancer research, and the third time it has donated the proceeds to the Canadian Cancer Trials Group.
Published:
April 18, 2016
The Canadian Cancer Society's online support group, Cancer Connection.ca will be hosting a webcast on Tuesday, April 19 at 6pm (Eastern time). The topic for this webcast is Clinical Trials 101.
Published:
March 09, 2016
MA.36 (OlympiA) trial: A Randomised, Double-Blind, Parallel group, Placebo-Controlled Multicenter Phase III Study to Assess the Efficacy and Safety of Olaparib versus Placebo as Adjuvant Treatment in Patients with Germline BRCA1/2 Mutations and High Risk HER2 Negative Primary Breast Cancer Who Have Completed Definitive Local Treatment and Neoadjuvant or Adjuvant Chemotherapy.