Planned System Maintenance
Starting Friday, December 21st, 2018 beginning at 5:00 PM EST, and ending on Friday, December 21st, 2018 at 11:00 PM EST. During this time there will be no access to the system including patient enrollments.
Please share this notification to the personnel who will be affected by this within your organization.
Maintenance Start: Friday, December 21st, 2018, 5:00 PM EST.
Maintenance End: Friday, December 21st, 2018, 11:00 PM EST.
We are sorry for any inconvenience this may cause.
Published:
November 27, 2018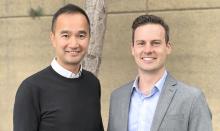 Dr. Kim Chi, Medical Oncologist, and Medical Director at BC Cancer leading the trial with Dr. Alexander Wyatt who is leading the DNA analysis and is a Senior Research Scientist at the Vancouver Prostate Centre and the Vancouver Coastal Health Research Institute.
FOR IMMEDIATE RELEASE
IND.234 is the first prostate precision medicine trial to use liquid biopsies for genomic testing
Published:
October 02, 2018
For immediate release
New international research collaboration explores blood-based biomarker testing to identify cancer patients that could potentially respond to immunotherapy
The study explores a potential non-invasive approach to identify tumor mutations
Published:
August 13, 2018
Published:
June 04, 2018
For Immediate Release
Kingston, Ontario – June 4, 2018  –  Clinical trial results presented today at the 2018 American Society of Clinical Oncology (ASCO) Annual Meeting in Chicago show substantial increased survival rates for pancreatic cancer patients who received a four-drug chemotherapy combination known as mFOLFIRINOX after surgery.
Published:
January 08, 2018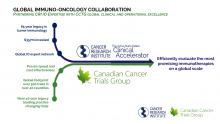 Published:
April 04, 2017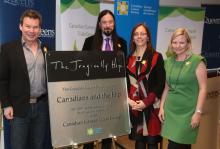 Tragically Hip recognized for supporting brain cancer research
Today, the Canadian Cancer Society (CCS) recognized Kingston hometown heroes the Tragically Hip for their support of brain cancer research. A commemorative plaque was presented to the band in honour of their support for cancer clinical trials at the Canadian Cancer Trials Group (CCTG).
Published:
March 16, 2017
FOR IMMEDIATE RELEASE
The Canadian Cancer Trials Group (CCTG) led CE.6 phase III trial was published today in the New England Journal of Medicine.  This international study tested the addition of temozolomide chemotherapy to an abbreviated course of radiation therapy in older adults with Glioblastoma (brain cancer).