Published:
August 13, 2018
Published:
June 04, 2018
For Immediate Release
Kingston, Ontario – June 4, 2018  –  Clinical trial results presented today at the 2018 American Society of Clinical Oncology (ASCO) Annual Meeting in Chicago show substantial increased survival rates for pancreatic cancer patients who received a four-drug chemotherapy combination known as mFOLFIRINOX after surgery.
Published:
January 08, 2018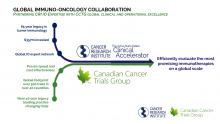 Published:
April 04, 2017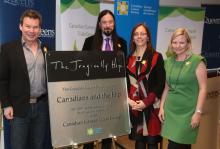 Tragically Hip recognized for supporting brain cancer research
Today, the Canadian Cancer Society (CCS) recognized Kingston hometown heroes the Tragically Hip for their support of brain cancer research. A commemorative plaque was presented to the band in honour of their support for cancer clinical trials at the Canadian Cancer Trials Group (CCTG).
Published:
March 16, 2017
FOR IMMEDIATE RELEASE
The Canadian Cancer Trials Group (CCTG) led CE.6 phase III trial was published today in the New England Journal of Medicine.  This international study tested the addition of temozolomide chemotherapy to an abbreviated course of radiation therapy in older adults with Glioblastoma (brain cancer).