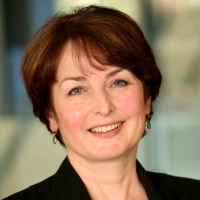 Since 1982, Dr. Eisenhauer was Director of the NCIC Clinical Trials Group Investigational New Drug (IND) Program where she was responsible for identifying and bringing clinical trial novel cancer agents into Canada. Through her work in the IND Program, she directed the coordination of over 170 phase I, II and III trials across Canada, the US and Europe, which included some of the first trials of paclitaxel and docetaxel, studies of topotecan, gemcitabine, various targeted antisense agents, angiogenesis inhibitors, and small molecule signaling inhibitors.
In 2012, she became Head and Professor of the Department of Oncology at Queen's University and Program Medical Director of the Cancer Centre of Southeastern Ontario at Kingston General Hospital.
Dr. Eisenhauer has served in numerous national cancer research leadership roles, including President of the National Cancer Institute of Canada and Chair of the Research Advisory Group of the Canadian Partnership Against Cancer. In 2012, she became its Expert Lead, Research, which includes the role of Co-Chair of the Canadian Cancer Research Alliance. She has also received numerous awards including, in 2002, the O. Harold Warwick Prize from the National Cancer Institute of Canada, the Society of Gynecologic Oncology of Canada Presidential Medal Award in 2010, and the NDDO Award Lecture at the international conference on Targeted Anti-Cancer Therapies in Amsterdam in 2012. That same year, Dr. Eisenhauer received the Queen Elizabeth II Diamond Jubilee medal for "her tremendous commitment to the advancement of cancer therapy, supportive care and prevention across Canada and internationally".
Dr. Eisenhauer obtained her MD from Queen's University in 1976 and subsequently completed Royal College of Physicians and Surgeons (Canada) training in both Internal Medicine and Hematology.